Recently the American Optometric Association stated children's vision and eye problems has become a significant public health concern. They have since issued a new evidence based guideline for children's eye care.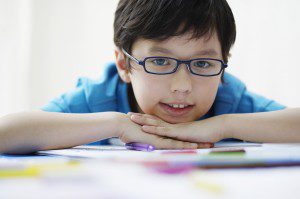 "What becomes critically important in children is the impact eye care and vision health can have on how well they function in their lives," says Diane Adamczyk, O.D, who chairs the AOA EBO Committee, which developed the new guideline. "If this guideline heightens the awareness of getting children's eyes checked, we've accomplished our purpose."
The guideline recommends a comprehensive eye exam for all children, from newborns through 18 years of age. Statistics show one in every 5 preschoolers and one in every 4 school age children now wear prescription eyeglasses or contacts.
"Children in America are entitled to the best, evidence-based care we can provide," Dr. Thau says. "These recommendations are the only guideline for providing evidence-based care to help protect the eye care and vision health of the next generation. As America's eye doctors, we are in a unique position to make a difference for these young people."
A comprehensive eye exam is key to detecting vision problems in their early stages. The new guidelines have expanded to include color vision deficiency, blue light and ultraviolet radiation protection, sports and other related trauma, ocular manifestations, and myopia.
"If you can catch certain eye conditions and diseases early in the course of their lives, you can really change children's lives," Dr. Adamczyk says. "If a child isn't functioning well visually, it can impact his or her performance in school. It can impact his or her behavior, future goals and the kind of work he or she will do as an adult. "The AOA hopes the impact of this guideline will be far-reaching," she adds.
Our goal at Lake Nona Eye Care is to ensure you see the difference that comes from superior quality eye care. We are committed to providing excellent, friendly and personal care to all of our patients.
Our Focus is Your Vision, contact Lake Nona Eye Care for an appointment.