We all want our children to do great at school. A successful education entails most of the day being filled with blackboards, tablets, books and laptops. Are our students being properly screened for vision problems that can make learning a struggle and cause a misdiagnosis of learning disorders. Studies show 80% of learning happens through the eyes.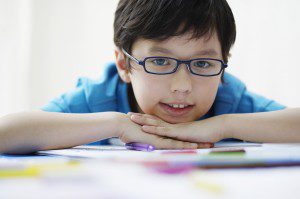 "The vision tests administered in school fail to detect one in three children with significant vision and eye health problems" according to the National Commission for Vision and Health in the Capital Weekly. The article goes on to say, "Vision disorders are the most prevalent disabling childhood condition, with one in four children and adolescents suffering vision problems that can impede their learning."
Though vision screening occur on a regular basis at our schools in Central Florida, these tests are superficial. They fail to screen for many serious issues that threaten vision, such as eye cancers or diabetes.
A spokesperson for the American Academy of Ophthalmology. Dr. Sumers explains, "many school age children suffer from nearsightedness, or myopia. In fact, a recent study showed over a third of children ages 12 through 17 are nearsighted in the United States. Over 60% of students who have learning disabilities, may suffer from undetected vision issues."
Many vision problems in children can go undetected, which is why a comprehensive eye exam is so important. Common signs of vision troubles in children include: frequently rubbing eyes, squinting, tilting or turning head to look at objects, wandering eyes, or squeezing eyes. Many of these conditions, if diagnosed early, can be treated and vision can even be restored. If the condition is not diagnosed until later in life, treatment will not be as effective.
"Comprehensive eye exams are one of the most important investments a parent can make to help maximize their child's education and contribute to overall health and well-being, especially since some vision problems may not have warning signs," Dr. Friedman adds. "Unfortunately, parents and educators often incorrectly assume that if a child passes a school screening, their vision is fine."
Catching issues early is an important key to everyone's long-term vision health. Dr. Ward and the Vision Team at Lake Nona Eye Care provides a comprehensive eye examination in a positive, relaxed environment for children and adults, ages 5 and up.
Contact Dr. Ward and the professional team at Lake Nona Eye Care for an appointment today.